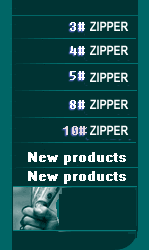 FOOK HING GOLDINGS(H.K.) CO.,LTD.
Scale: We are one of largest zippper accessories and zippper manufacturers in China. Exported top grade modern machinery, zippper assembly lines,strong tachnology and scientific management can guarantee the quality of our products.Our daily output is 20tons zipper and 300,000 stripes.Our comper has a staff of 2,000 covers an are of 70 mu and owns a building area of 6,000 square meters. Products: We specialize in various nylon, plastic and metal zipppers,die-casing zinc-alloy, metal,resin.nylon zippper accessories. We can provide accessories of complete specification and styles for large zipper manufacturers at home or aboroad.
001
PIN-LOCK SHORT PULL

002
3#AUTO-LOCK SHORT PULL

003
3#NON-LOCK LONG BOARD

004
3#NON-LOCK WHEEL

005
3#NON-LOCK ROLL PEARL

006
3#NON-LOCK LONG PULL

007
3#NON-LOCK TRADE MARK

008
3#ON-LOCK CALABASH PULL

009
3#AUTO-LOCK SHORT PULL

010
3#PIN LOCK

011
3#AUTO-LOCK SHORT PULL

012
3#LONG PULL

014
3#PIN-LOCK(0.38)(0.42)

016
3#PIN-LOCK SHORT PULL

017
3#AUTO-LOCK INVISIBLE PULL

018
3#AUTO-LOCK 3F PULL

019
AUTO-LOCK 3F
Y-DROP PULL

020
3#AUTO-LOCK LONG BOARD

021
NON-LOCK DOUBLE LONG PULL (0.38)(0.42)

022
NON-LOCK SHORT PULL

023
NON-LOCK Y-DROP PULL

>>Next
---
FOOK HING HOLDINGS(H.K.)CO.,LTD.
9-101,Greattown Garden,No.168,Fuma Rd .,Fuzhou,Fujian,China

Tel:13509378722  Fax:0086-591-83666902 EMAIL:fhing619@sina.com